GlassesShop for prescription glasses
Glasses have been a part of my life for about four years now.
Four years or so ago, I became a member of the prescription eye wear community. I am nearsighted. My knowledge of the right kind of glasses for my particular face was limited and I spent a foolish amount of money on glasses that were just not cute for my big face.
This summer after a visit to an eye wear store, I started getting the hang of selecting the right
glasses
for my face and realized larger frames look much better than the small rectangular frames I first purchased with my original prescription. A couple of months ago, I had another eye exam (I waited quite awhile between exams...) and as luck would have it, my prescription had not changed at all.
Eye wear from GlassesShop.com (Sponsored)
Recently,
GlassesShop.com
reached out to me to try out some of their frames. This was my first introduction to ordering
glasses online
, so I was a bit uneasy about how the glasses would turn out.
When ordering prescription glasses or sunglasses online, you have to have
your
RX
and
PD
(pupillary distance).
I must say, knowing the dimensions of the frames is also important. I still had a copy of my prescription, but my salesperson forgot to write down my pupillary distance when she gave it to me. Pupillary distance is the distance of between your right and left pupils. It's used to determine the right lens shape and alignment, so that the prescription lines up with your line of sight.
I had to measure myself. Ha! That was quite a task. I wish I were able to take a picture of me measuring my pupillary distance, but I just did not have enough hands. With my pink measuring tape and a piece of paper with two dots marking where my pupils were, it was just cumbersome.
Here's an example of how you should measure your pupillary distance:
That was the hardest part about ordering glasses online. Otherwise, choosing the glasses was somewhat of a breeze. Ordering through GlassesShop.com: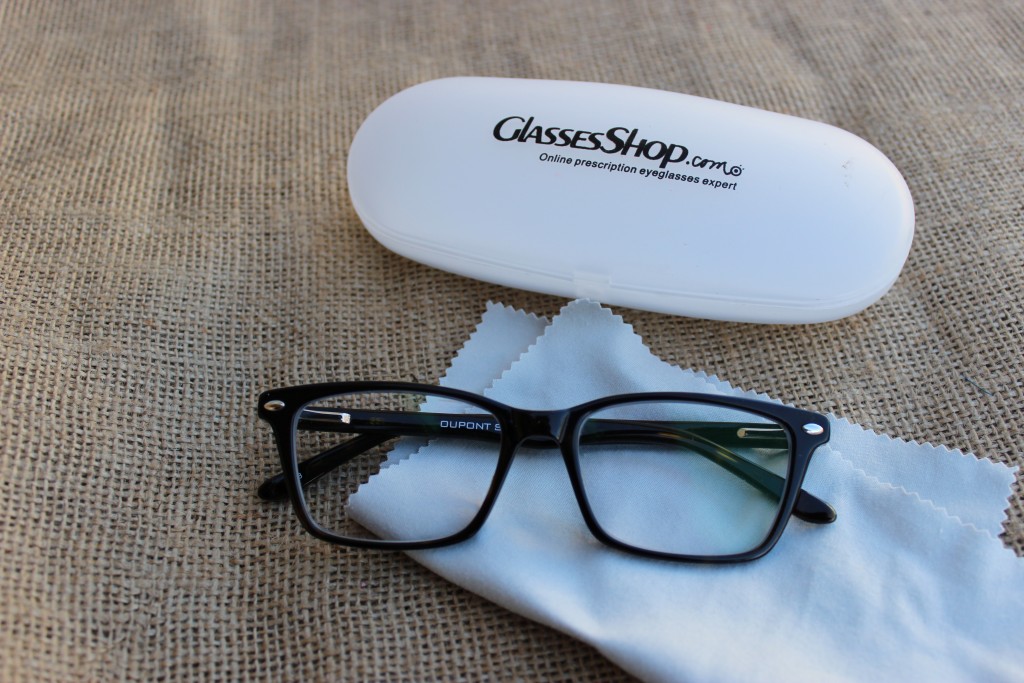 Your glasses from GlassesShop.com arrive with
a cleaning cloth inside of a plastic case.
Image from ChicNSavvyReviews.net
They are located in Asia and it takes a little while for the glasses to arrive once ordered. However, that is also true when you order from some brick and mortar stores.
The frames I received were a little smaller in the lens area than I thought they would be, so they feel a little tiny on my big face.
My frames fit very well on my head, I have a pair of glasses that I love, but they always fall off my face.
My lenses were absolutely perfect when it came to the prescription.
Some of the reviews online show that people have had issues with customer service and some with the proper placement of the prescription in the lenses. However, there are also very positive reviews about the overall experience and products.
The frames, even with prescription lenses, are quite affordable and they offer great discounts.
There is an array of frames and colors to choose from to fit your style.
Although, this post is sponsored, I will definitely order from GlassesShop.com again, now that I know to look for eyewear with larger or oversized frames. My first purchase will most likely be
prescription sunglasses
.
Want your own frames? Use my code GSHOT50 for 50%
off eyeglasses and sunglasses
with free lenses(sale frames excluded)
at GlassesShop.com. (Sponsored)
Want your own frames? Use my code
GSHOT50
for 50% off
eyeglasses and sunglasses with free lenses(sale frames excluded) at GlassesShop.com*.
*This is a sponsored post. The frames that appear here were comped for the purpose of reviewing GlassesShop.com. The opinions in this review are given honestly and based on my personal experiences with GlassesShop.com.